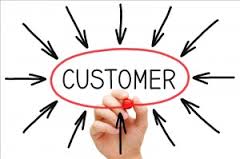 Are you looking to hire a Customer Success Manager into your organisation?  If you have thought about it, or are indeed currently looking, I bet you feel like you're looking for that 'one in a million', 'needle in a haystack', or the ever allusive 'flying unicorn'.
It doesn't need to be that difficult. Customer Success Managers, thankfully, will tell you their strengths and their priorities well before you need to bring them in. Having this transparency, really does make finding 'the one' that much easier.
Customer Success, like many other roles, varies from person to person. To find the right person for you, you need to have a clear understanding of what you want from the individual and the role. If you think about Customer Success Managers, you might see something detailed like this: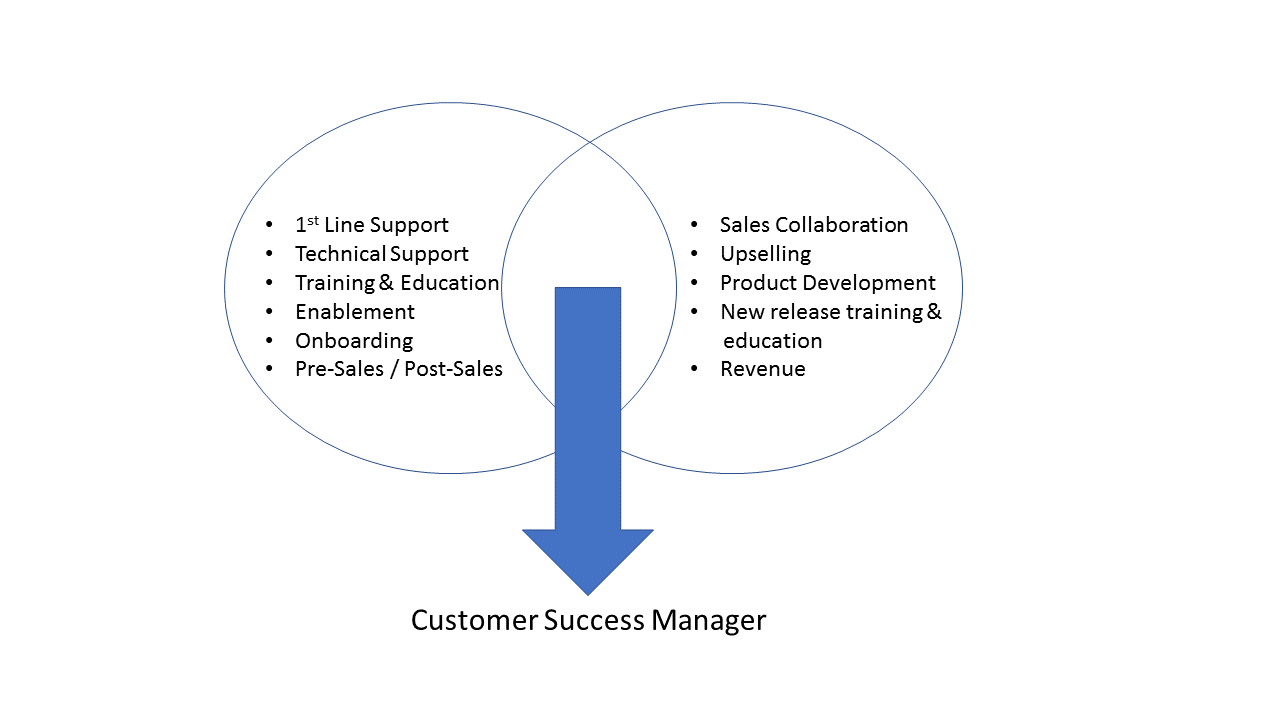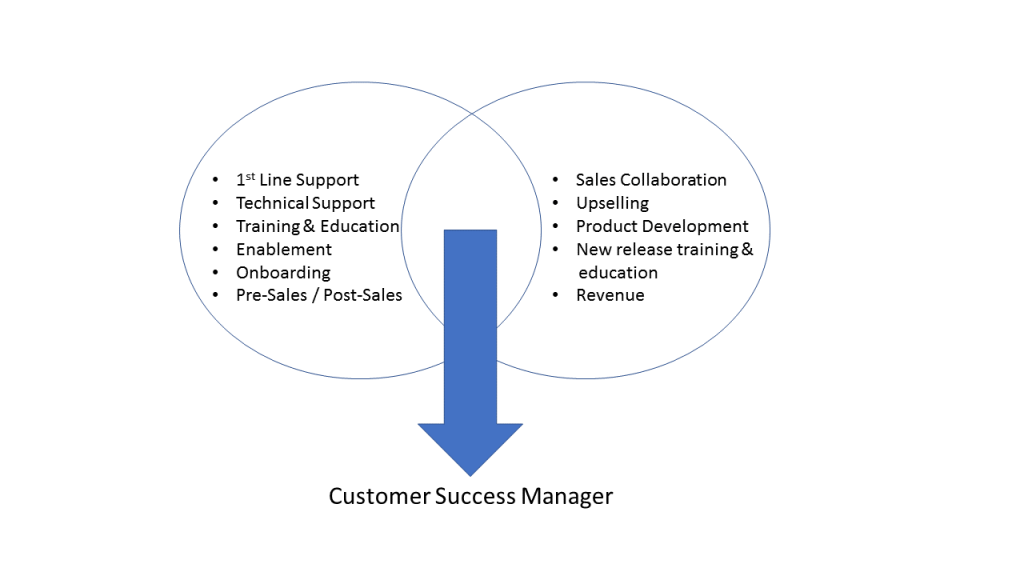 Ideally, you would be looking for someone right in the middle of the above diagram, however in reality you will be hiring someone with an inclination to the left hand sphere or the right hand sphere. Understanding where your organisation's priorities lie, will make interviewing for the role that much easier.
Once you decide which sphere applies to your role, you need to ensure this information is clearly made available in your job spec. Having a commission based structure will appeal to the right sphere and be applicable to those with a sales background, but not with a pure business hunter mentality. If you want your focus to be primarily happy customers, then having someone on the left sphere means you can invest your commission into a more technically focused CSM.
Luckily, Customer Success Managers love to talk, so trying to establish where their focus lies, should be easy enough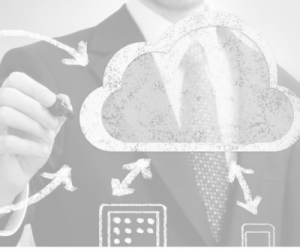 in the initial screening telephone interview. Asking them 'What does a successful client look like to you?' is a great open question which will highlight exactly what they believe their priorities should be.
Having a Customer Success Manager or Customer Success department in your organisation can really help free up time in both your sales and pre-sales departments and give every department much more focus on their primary role. Hiring a Customer Success Manager can be tricky but hopefully this guide will give you, as a hiring manager, a better understanding and a good place to start.
Interview Questions 
Looking for a Technical Customer Success Manager? Ensure you have covered the below:
---
What experience do you have in SaaS/PaaS or IaaS organisations?
You are looking to see whether their experience aligns with what you currently do. All software organisations have varying processes however, some have similar or overlapping skill sets.
---
From the research you have done into our organisation, how is our model similar, or different, to your current company ?
Never write someone off because they don't have experience in your software model. Listen to what they know about your model and how their experience could align. It will also show the level of research they have completed before the interview.
---
Our current development process works on a fortnightly sprint (example). How does this differ to what you are used to? Do you understand how the different release methods are going to affect the client and their expectation?
Throwing in terminology like Sprint, Waterfall etc, will quickly highlight how technical the CSM will be. This can be taught on the job but understanding how the software is developed, will form the basis on how your CSM will interact with your clients.
---
How do you currently conduct your training sessions (on-site, webinar, self service) Based on your experience, what kind of training methods do you find most successful and why?
This is important. Is your CSM going to expect to be out of the office on client site all the time? Are they going to be trying to arrange on site visits to your international clients? Are they effective enough to train virtually? Are they technical enough to help create a self service portal?
---
Some clients have exceptionally complicated requirements with our technology. Being their first point of contact, you are expected to have a detailed knowledge of the platform/software however, you need to ensure technical issues are dealt with by the right team. How would you differentiate your role from that of our support team?
Ok this one is a little mean but the last thing you want is your clients to have a full time support contact – this question should highlight how tough your CSM will be.
---
Looking for a more sales orientated Customer Success Manager? Try these questions
---
Upselling is an important strategy for us , who do you think should manage this opportunity and why?
Are they going to own sales during the client's tenure? Do they want to focus on getting more from their clients and growing their clients or are they happy to let sales pop in and out to do this?
---
You may on occasion be brought in to assist a sales representative during the sales process. How will you ensure you are utilizing your time effectively and not doing the sales persons role?
This is also a tough question and there really isn't a right answer to it, however, you are looking for some insight in how they will support the sales person without doing all the work and reaping none of the rewards. You want to hear things like 'I will need to understand exactly what my role will be and why the sales person needs additional support'
---
We aren't always invested into the entire client's business. Would you deem a client who has 10% engagement with no intention of increasing this share more, or less successful, than a client who has 90% share?
Another tricky question but again highlights the CSM's priorities. Those with a hunger for growth will choose the 10% client as they can actively work and grow this account. CSM's who are more inclined to the left sphere (above) will focus on keeping the 90% client happy and engaged.
---
If we released a new piece of additional functionality to our existing software, what would be your main priority in terms of understanding it ?
A fairly open question, but what you are looking for in a sales focused CSM is someone who wants to understand the features and benefits, how it can add value to their client's and ultimately increase revenue.
---
Finally, you will be expected to handle a mixture of key accounts and non-key accounts. Tell me about how you would prioritise these clients and where you would invest your resources.
Let's hear it from them. What do they deem most important?
---
Harvey Thomas is a dedicated recruitment partner to the software industry, working with UK and International Software vendors securing business critical hires across Sales, pre-Sales and Customer Success. If you would like to discuss any of the points raised in the article, please contact Customer Success specialist Jon Eyers on +44(0)1908 307474 or visit our website.
By  Pamela-Jane Partington – CSM.
Save
Save