Customer Success in my Experience
Customer Success has been my specialisation since I joined recruitment. So, why did I choose Customer Success of all specialisations? Was it because it was the 'new trend' which was all the rage? Was it because it looked like an easy placement? Or was it because it was a recommendation? Honestly, it was none of those. I chose Customer Success because it was something I believed in.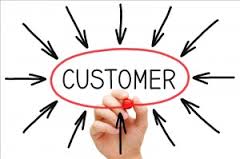 My previous career experience, for me, was all about the Customer. In my last role I was a Small Business Specialist for a SaaS vendor, and what resonated with me in this industry was that it was relatively easy getting the client to buy into a product, but keeping hold of the client was the challenge. It wasn't the product that was the most important retention element, but how the customer was engaged with the business after the sale. With SaaS vendors in particular, customers can now come and go as their business develops and I would see it on a regular basis. Customers would start with the product or service, become disengaged, stop using it, go with a similar vendor and occasionally come back as the need arose. What SaaS vendors need to ultimately achieve is cutting out the middle man, and keeping the customer for life, and that's where Customer Success steps in.
Customer Success is not new; in fact, it's been parading as all sorts of other roles for years. Customer Support, Post Sales Account Manager, Technical Account Manager, the list goes on. So why the rebrand? As customers have changed, so providers have needed to follow suit. Customers still want to be made to feel special. They want to be made to feel like their business is the only business keeping your company afloat. When initiating the sale, this is how good sales people will make them feel, but more often than not, this is also where that feeling ends. And that's how the new age of Customer Success began. Customer Success Managers will now look after your customers from the moment they say 'Yes'. They will have their very own shadow looking after them, making sure everything goes according plan, training them and their colleagues, ensuring they have all the support after the fact and no longer get lost in the crowd of your ever growing business. It's good to have a successful support team, but it's even better to have customers who feel like they are the most important element of your business.
So that's why I chose Customer Success and have not looked back since.